Egg White Marshmallows
September 2, 2008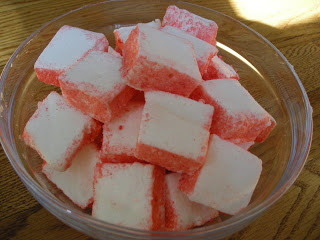 After a weekend of making incredibly rich dairy food for friends (including the most amazing french toast ever) I found myself with a large number of egg whites that needed using up. I am not a huge fan of meringues or angel food cake, so I decided this was my opportunity to try egg white based marshmallows.
I used the recipe in Baking: From my Home to Yours and had trouble with it from the beginning. The recipe says to start the sugar syrup cooking and then deal with the egg whites and gelatin. The egg whites are supposed to be ready by the time the sugar comes to temperature (265 degrees). Well, by the time I was ready the sugar had reached 279 and was approaching caramelization. Knowing I couldn't use it for this recipe, I made it into chocolate orange caramel and started again.
The second time I got the temperature right and finished the recipe, but I found that after setting up overnight the finished product was just ok. The marshmallows are light and fluffy, but lack in the distinctive chewiness of marshmallows. While they certainly were not rubbery, they weren't quite right either. I like the fact that they call for only a very small amount of corn syrup, but overall this is not the recipe for me. I am going to keep trying other recipes until I get it right, but I think I am done with the egg white version for now.
As for the rest of those egg whites, egg white omelets all around!
Recipe Updates – Delivered Fresh!